Nexus One already having 3G connection issues?
23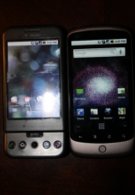 This sounds way too familiar and the Nexus One is taking a
page
right out of the iPhone 3G. With the device now readily available to the general masses, there have been complaints coming in from owners about the handset constantly switching between
EDGE
and 3G speeds – something that seemed to plague the iPhone 3G initially as well. Even in areas where 3G speeds are available, some are receiving poor 3G coverage. One owner in fact proves a point by comparing a T-Mobile G1 and Nexus One side-by-side at the same location. From the picture provided, you can clearly see that the Nexus One is running off EDGE while the much older G1 is happily basking in 3G goodness. Another user goes on to say how their G1 has a solid 3 bars of EDGE connection while their Nexus One on EDGE has a measly 1 bar. This doesn't seem to be an isolated event because Google's Nexus One support forums are overflowing with complaints. So how is your Nexus One faring so far?
HTC Nexus One Specifications
via
Gizmodo