Nexus 6P slides leak confirming name, specs, colors, memory options and more
70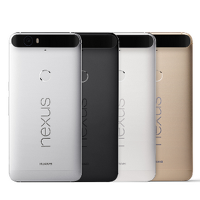 The
Nexus 6P
will be Huawei's first Nexus device, and slides that were produced to show off at some presentations, have leaked. First, we have to add that you should take this with the proverbial grain of salt (or Mrs. Dash for those on a salt-restricted diet). After all, slides can be faked. But if they are legit, they reveal that
the Nexus 6P name is real
.
Thanks to the slides, we can tell you that the model has a metal build and is equipped with a Gorilla Glass 4 protected 5.7-inch screen, carrying a 1440 x 2560 resolution. The Snapdragon 810 (version 2.1) chipset is under the hood, containing an octa-core CPU and the Adreno 430 GPU. A 3450mAh battery pumps power through the phone's veins, and the unit features dual speakers in front. A fingerprint scanner is available on the back of the handset.
Android 6.0 is pre-installed, which means that the Nexus 6P will offer Google Now on Tap. This provides timely information based on what is on your screen when Google Now is activated. For example, if you have a movie trailer on the display, tap the screen and hold, and Google Now will present cards with information about the film. Android 6.0 also offers a native fingerprint scanner, let's you choose which permissions to allow when installing an app, and offers an improved stand-by system to stretch out battery life.
The slides hint at a low f-stop (aperture) for the rear-camera, which would allow for "better images under low-light conditions." A faster Google Camera app allows you to quickly focus on your subject. The Nexus 6P will be offered in Aluminum, Graphite, Frost and Gold, although the latter is available in Japan only. The phone will give buyers the option of 32GB, 64GB and 128GB of native storage. One slide says that the stock Android handset will be pre-loaded with "The Best of Google Apps." A USB-Type C port is on board, and the phone weighs in at 178 grams.
The Huawei built Nexus 6P and the LG produced Nexus 5X
will both be unveiled on September 29th
at a previously announced media event being held by Google.
Slides for Nexus 6P presentation leak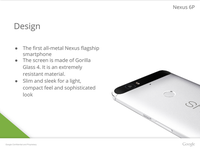 source:
Imgur
via
AndroidPolice