Nexus 5 won't have a 3000 mAh battery version, claim insiders, just 16 GB and 32 GB ones
87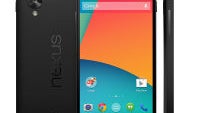 From the
Italian folks that have been leaking info based on a prototype Nexus 5 with early builds of Android 4.4 KitKat
comes the latest revelation on Google's elusive handset and its versions.
First off, their sources confirm there will be two versions of the phone, with 16 GB and 32 GB of storage, respectively.
Google's test Play Store pages
where the
Nexus 5
was pictured with $349 price tag is probably for the variant with larger storage. No microSD card for expansion will be available, of course.
Second, as much as we've heard about two battery capacity versions - 2300 mAh and 3000 mAh - the source poured cold water on that rumor, and said both the 16 GB and the 32 GB unit will come with 2300 mAh, which sounds more logical.
Finally, as for the release date, he mentioned with 99% certainty it will be by the end of October, which we already know from numerous leaks, leaving 1% chance for the announcement to be put off for a later date if unforeseen circumstances arise.