Nexus 5 torn down: screen, camera and chips pictured
27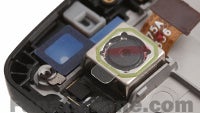 The Nexus 5 is expected to arrive very soon, but while we are still waiting the leaks just do not cease to flood us.
The latest pictures reveal Nexus 5 components such as the screen, camera and mainboard as the device is torn down to pieces. The new Nexus has leaked out so many times that by now it seems that we know virtually everything about it, even those low-level details.
This time around, though - unlike other blurry leaks - we have a high-res photoshoot allowing us to peek inside the Nexus 5. The images once again show the 2300mAh battery (it is not user replaceable), the alleged optical-image stabilized 8-megapixel camera and the 4.95-inch 1080 x 1920-pixel display. We get a closer look at the peculiar circular-shaped earpiece and the front camera. All the smaller chips and connectors are also exposed.
You can take a look at them all right below as we eagerly anticipate some official information.