Nexus 5 likely coming with an OIS camera
38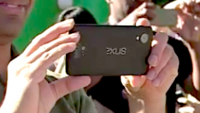 Optical Image Stabilization is great.It's always there for you, and it can mean the difference between anunwatchable 'action' sequence and a clip that's actually enjoyable.Unfortunately, for one reason or another, most manufacturers haveignored the tech, with a few exceptions, like HTC, Nokia and mostrecently: LGwith its G2.
So what does all of the above have todo with the upcoming Nexus 5? Two things. First, it appears verylikely that LG's great work with the Nexus 4 has convinced Googlethat it should manufacture the Nexus 5, as well. And second, if thestreet has the truth of it, the Nexus 5 will be based on the LG G2,to a certain extent (probably a smaller screen, no rear buttons). Weknow that, because of a wildly publicized FCCfiling from yesterday, which requested a "class 2 permissivechange" for the LG G2. What went under the radar, however, is thatthe torn-down Nexus 5 actually uses the very same OIS camera unitthat the LG G2 does, even though as far as the looks go, the Nexus 5is completely different in that regard. This means that the nextNexus will probably be the newest device to join onto thecamera-loving bandwagon, and this is certainly good news.
Forthose of you who haven't had the chance to catch up yet, the Nexus 5's release date is expected to take place by the end of the year, or at worst -- early 2014. As we said earlier, the screen will probably be smaller, at thereported 4.96-inches, and so will the battery – down to 2300mAhfrom G2's hearty 3000mAh unit. And though we're expecting the Nexus 5to be a great performer, courtesy of Snapdragon 800 and the 2GB of RAM its said to pack,the most eye-catching feature of the device for most will probablyend up being the alleged Android 4.4. KitKat its said to arrive without of the box.