LG Nexus 5 fully assembled, torn down, and on camera in new filing
58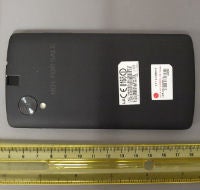 We've seen enough leaks so far that we know the LG Nexus is real, but a new regulatory filing is giving us a look at everything about the device, inside and out. The regulatory documents come from the FCC where we've already seen
two
potential
filings
related to the new Nexus device, and the pictures look just like the smartphone that we saw in the Android KitKat
statue
unveiling video.
The pictures show the LG Nexus (presumed to be called the Nexus 5) in various states of assembly. If you like teardown pics, these are for you, because you get to see the device fully-assembled, and then pulled apart bit by bit all the way down. The hardware itself doesn't show the Nexus branding, but otherwise it looks just like the device we've seen before with the giant camera lens on the back.
The filing is for a "class 2 permissive change" for the LG G2, which is the device that the new Nexus is assumed to be based on. Previous filings have indicated that the device will be a bit smaller than the Nexus 4, but have a slightly larger display at 4.96-inches. The device has a 2,300mAh battery, and is expected to be fitted with a Snapdragon 800, at least 2GB of RAM, and of course it will be the first device released with
Android 4.4 KitKat
.
The only real question remaining is whether or not this will be the only new
Nexus phone
released, because there have also been rumors of a
Motorola Nexus
.