Nexus 5 features two new sensors: step detector and step counter
20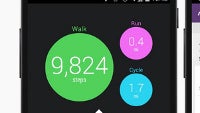 The Nexus 5 comes with two new sensors built right inside it that you might not know about - a step detector and a step counter. The pair will quietly run in the background monitoring literally every step you take whether you are walking, running or climbing stairs. And since the two sensors are baked right in the hardware they consume very little power.
The Nexus 5 is the first device we know to have these two sensors built in, but it likely won't remain the only one for long. Android 4.4 KitKat opens platform support for these new sensors so other phones can integrate them as well.
How does it all work? Simple - the accelerometer detects when you've taken a step and the counter, well.. counts them. All of that detection happens in the system so developers do not need to write code for the step detection, and that's neat.