Nexus 4 vs Galaxy S III vs One X vs iPhone 5: size comparison
39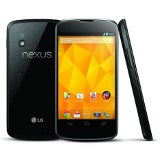 One of the interesting things about the
LG Nexus 4
, which was unveiled about two days ago, is that it is almost entirely based on the hardware of the Optimus G, but LG has given it a radically different appearance, probably at Google's request. So, the end result is that we now have a Nexus 4, the front of which is very reminiscent of the Galaxy Nexus with its rounded shape and completely clean surface. Obviously, this will appeal to some, while others will prefer the more rectangular shape of the
Optimus G
, but the point that we'd like to make here is that for such a large cell phone, it's probably beneficent to have such rounded corners, as this helps make the device feel smaller and easier to hold.
Thanks to this design decision, the Nexus 4 is about as big as the
Galaxy S III
or the
One X
. It's actually a tad smaller in length and width, while its rivals have just a slight advantage in terms of thickness. If we have to compare it to the iPhone 5, it's evident that the Nexus 4 is a significantly larger smartphone in all dimensions. Anyways, we're glad that the LG Nexus 4 will not fare worse in the comfort department, compared to its competition, and it may even be a tad better. There isn't anything particularly striking about there appearance of the Nexus 4, but LG and Google have done a good job keeping its overall size on the reasonable side.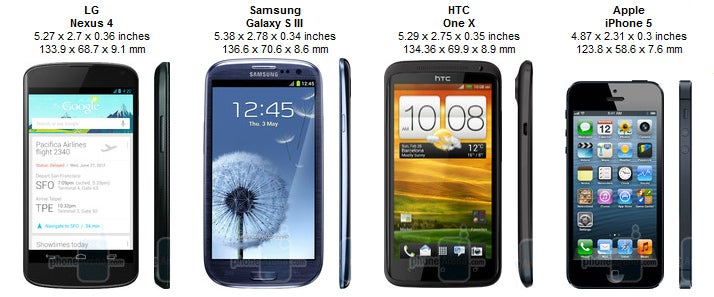 You can compare the LG Nexus 4 with many other smartphones using our
SIZE COMPARISON TOOL
!