Nexus 4 caught running Android 4.2.2 again, this time on video
5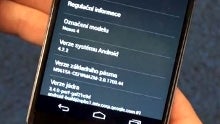 We saw a number of reports about the new batches of the
Nexus 4
shipping with Android 4.2.2 instead of 4.2.1 recently, like the
one coming from Brazil
, where LG has a mobile phone factory that assembles the handsets for shipment.
Now the latest report comes with a video proof of a Nexus 4 somewhere in the Czech Republic, which also indicates the Android versions of the phone to be 4.2.2, which should be a slight update to what we have now.
The phone gets a video review and size comparison with the
Optimus G
, but no glaring differences can be observed in the interface, so the update seems to rather be under-the-hood improvements and bug fixes.