Next iPhone is believed to pack an 8-megapixel camera after Sony CEO's slip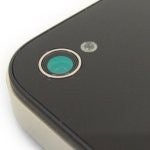 Back in the end of February, we
reported
about the possibility of Apple switching to a new camera sensor for its next iPhone – which was rumored to be supplied by Sony . However, it seems now that it's more credible after some words
accidentally slipped out of Sony's very own CEO
.
The always charismatic Sir Howard Stringer, CEO of Sony, pretty much slipped out a few words about the camera specs of the new iPhone after speaking to Walt Mossberg in an interview. Specifically, Stringer was elaborating on how the devastating earthquake in Japan a few weeks ago is now placing some strain on its CMOS sensor production at their Sendai plant.
Of course, we have yet to hear any official confirmations regarding specs for the upcoming iPhone, but Howard accidentally went on to mention something unexpected. He said, "Our best sensor technology is built in one of the affected factories. Those go to Apple for their iPhones… or iPads. Isn't that something? They buy our best sensors from us?"
Without knowing it, Stringer pretty much cleared things up a little bit for everyone since OmniVision currently supplies the CMOS for the available iPhone 4, but the reports from February hinted that Apple was soon going to make a switch to using Sony's sensors. And now that this is out of the bag, it pretty much confirms the reality that Sony will be the camera supplier for the next generation iPhone; not OmniVision.
So as it stands right now, we can very well expect to see an
8-megapixel camera
on the iPhone 5.
via
9 to 5 Mac
&
SlashGear