Next-gen Moto X and Moto G will have near-stock Android (Lenovo won't alter Motorola's software strategy)
23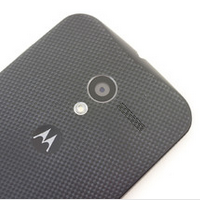 Back in January, when Google agreed to
sell Motorola Mobility to Lenovo
, the companies said that "Lenovo intends to keep Motorola's distinct brand identity." Even so, some users may be worried that Lenovo could alter the software experience on the upcoming Moto smartphones. As you may know, Mototola's latest handsets, the
Moto X
and
Moto G
, are both offering near-stock Android.
Punit Soni, VP of Software at Motorola, today answered a few live questions via Google Hangouts. One of the questions addressed exactly the issue mentioned above: "will future versions of the Moto X and Moto G stick with almost-stock Android?" Punit Soni's answer was a definite "yes." He continued by saying that "the core premise of the software strategy is making sure we have pure Android, and that we can provide the best experience to users."
Well, there you have it: the rumored
Moto X+1
(which is expected to be the successor to last year's Moto X) will run near-stock Android. The same will likely happen with the
Moto E
(another rumored handset that should be introduced this year), although this doesn't seem to be the Moto G's successor, but an even cheaper device.
Punit Soni also said that Motorola will continue to provide quick software updates, and that its handsets' camera experience (including image quality) will be improved. You can see the full discussion in the video below:
Besides making its own new smartphones, Motorola may also design a handset
in collaboration with Lenovo
- a device that could be launched before the end of the year. Will this have near-stock Android, too? We don't know, but we're looking forward to finding out.