News bits for Android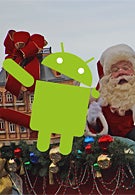 As Android is getting ready to
eat some cakes
, in order to grow up big and strong, almost every manufacturer has decided to announce, that it's going to release its own phone, working on the open-source operating system. We really think that tomorrow (December 24) Santa Claus is going to make a press release that its Android based Xmax1 model is already loaded on the deer and is ready to be distributed all over the world. You'll get it if you've been good. And have a data plan…
Now, seriously. The latest manufacturer to announce its plans for such a device is Garmin, which's first phone (Nuvifone) has been expected for a year now. Well, according to the rumors, it's going to be out in Q2 2009, based on Linux. Their next one however, is going to use Android's services. It's expected to be released in the second half of 2009.
Do you remember Andy Warhol saying that everybody is going to have his/her 15 minutes of glory? The easiest way for achieving this is to spread a rumor for the G2, especially this Christmas. It seems that everyone with a little knowledge of Photoshop is setting one up, with a picture of it of course (most likely of the HTC Touch HD). The latest rumor of this kind (coming from
Digitimes
) is that the G2 will be out on April 2009, and the third device of the series is already under development. In our view, this is rather unlikely, although possible.
We have "good" news of Google employees. Most of them won't receive a cash bonus… but they'll get the G1, unlocked for all carriers, for free. Even those, who already own the G1, will receive a bonus one. Moreover, according to the politics of the company, they won't have a right to sell it. The ones, working in countries, where using the G1 is impossible, will receive its value in cash (about $400), in addition to their Christmas salary.
The only thing that has left to do is to wish you a Merry Android Christmas!
via: EngadgetMobile (
here
and
here
) and Gizmodo (
here
and
here
) and
Digitimes