New updated Froyo build discovered for Nexus One
3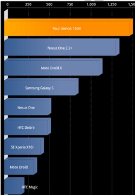 The guys at Xda have stumbled upon an updated Froyo build for the Nexus One. The FRG33 update corrects a few minor bugs and adds a new version of the installed radio. Those who have downloaded the software on their N-One have said that the handset is quicker when connected to Wi-Fi. Overall, the FRG33 seems to provide a bump up in speed, surpassing the benchmark score of the phone using the prior Android 2.2 build.
At first, the developers thought they had stumbled on to an Android 3.0 ROM because of the use of the letter "G" in the build description, which, it had been hoped, could have stood for the "Gingerbread" code name for the next level of the Android OS. Instead, what was discovered was the next build up for Froyo. There is some speculation that installing this on your device could prevent you from visiting the Android Market. There has been some discussion on forum boards on how to handle this problem, which you can read by hitting up this
link
.
Also, because this is not an officially recognized build, just remember that installing this on your device could lead to plagues, curses, a busted warranty and a bricked phone. Just make sure the risk you are taking is worth the risk you are taking. And if you are adventurous and do install this ROM, by all means, let us know exactly what changes you have spotted from your phone.
HTC Nexus One Specifications
|
Review
source:
Xda-developers