New, official-looking renders of Samsung's thinnest device yet, the Galaxy A8, confirm rumored specs
13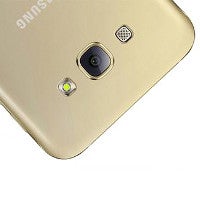 While we first heard of the possibility of a new addition to Samsung's Galaxy A line back in March — the
Galaxy A8
— it wasn't until May that we knew more in terms of specs, and until earlier today that we had an idea about the way the device would be priced and when it would get released. Chinese e-store
Sunning
has been responsible for some of this intel, and it's back again with more concrete proof, cited by
@OnLeaks
(and since removed). This time around, we're looking at two new renders that once again show us the A8 in the flesh, but also confirm rumored specs.
To start off, the slender exterior is highlighted once again. That's not surprising, seeing as how the A8 is on path to becoming the slimmest Samsung device to date, at 0.23 inches (5.9 mm). The new renders also make mention of a 16-megapixel main camera with super-wide,
f
/1.9 aperture, a fingerprtint scanner embedded into the physical Home button on the front lower bezel, and a hearty, 3,050 mAh battery. The cell that Samsung has managed to fit is particularly impressive, given how thin the phone is — even if it's plenty large, at 5.7-inches (1080p). Other specs that have been suggested so far include an octa-core, Qualcomm Snapdragon 615 processor, and 2GB of RAM.
As we learned earlier today, the Galaxy A8 will cost the equivalent of about 439 EUR (~$483) in China, where it'll launch (we're told) on July 17. Right now, we have no information on whether the slick device will be made available outside of the Middle Kingdom, though it's certainly possible considering other members of the Galaxy A family are sold worldwide.