New leaks suggest Xiaomi Mi Note 2 release date
11

A short while ago, we learned that
Xiaomi's forthcoming Mi Note 2
could arrive in
two configurations
. The fully-stacked version, it has been claimed, will host the Snapdragon 821 chipset alongside a mind-blowing 6 gigs of RAM. A couple of new leaks have today surfaced with apparently differing theories on when the Mi Note 2 might officially arrive.
Spotted by the folks at
AndroidPure,
the two sources on the Mi Note 2's arrival appear to conflict. The first Weibo source touts
"finally confirmed"
rumors that the device will be
"officially released"
on September the 14th, which would leave ten days between now and the street date. This particular tidbit also references the Snapdragon 821 as we've heard before, along with the dual rear cameras and curved display as spotted in numerous sightings. A 2999 Yuan price is also speculated, which equates to around $450 U.S.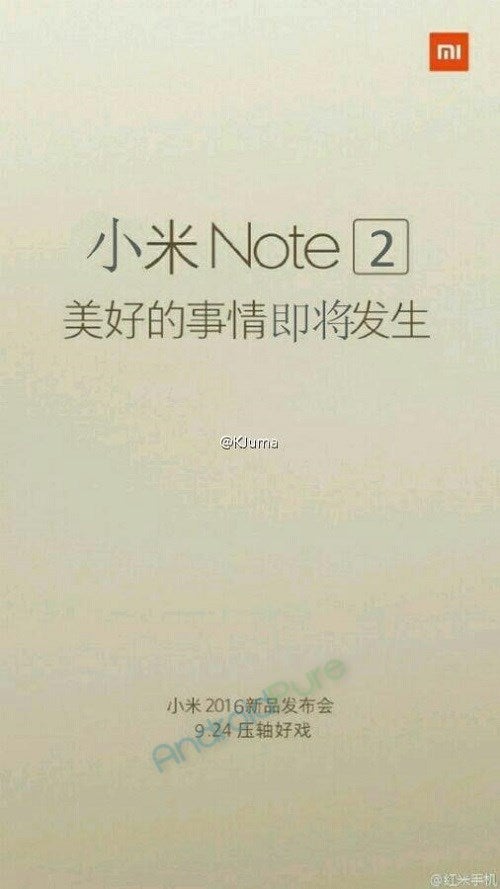 The second leak takes the form of an official-looking promo poster seen in the image to the right, which makes reference to '9.24' at the bottom. That September 24th date lands on a Saturday, which would be a decidedly strange day to hold a launch event, though not completely beyond reasonable possibility.
Indeed, it could even be that Xiaomi plans to introduce the handset on September the 14th before rolling it out to customers from the 24th. Whatever the case, the depicted graphic does have an air of legitimacy about it, so we wouldn't be surprised if Xiaomi does plan to break from convention and launch / release the Mi Note 2 on 9/24.
With
previous analyst conjecture
having indicated an August arrival, the uncertainty of the Mi Note 2's whereabouts still persists. Hopefully it won't remain an enigma for too much longer, though, particularly given those delicious specs.