New leaked OS update for BlackBerry Storm 9530 and Curve 8900
20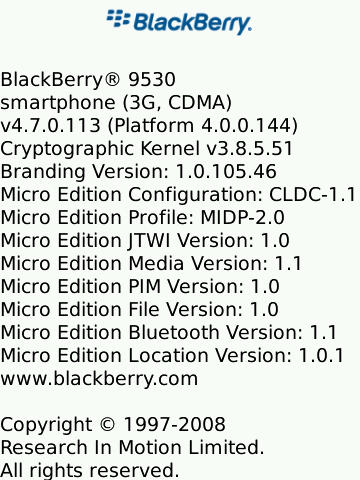 Not one, but two BlackBerry models were the recipients of leaked OS upgrades. First, the BlackBerry Storm 9530 has version 4.7.0.113 available. On the face of things, this appears to be a step backward since the previous leaked OS was numbered 4.07.0.114, but the platform number on the newer version is .161 compared to the .160 seen on all other unofficial Storm firmware upgrades. Those who downloaded it say that the new OS has improved call quality, increased the speed of screen transitions and the web browser and has kept both the QWERTY keyboard in portrait mode and the newly updated copy and paste function. Once again, there are complaints about the depth of the icon colorings. The overall impression was that this build improves upon the prior leak and could be good enough to become the next official firmware upgrade.
Owners of the BlackBerry Curve 8900 were treated to leaked OS version 4.6.1.199. The last firmware leaked was version 4.6.1.174 which we
reported
earlier this month. According to Curve users, the upgrade speeds up screen transitions, the GPS seems to lock on to the device faster, and volume was reported to be louder. A problem that the Curve has been having with text wrap has not been fixed.
As usual, we caution you that both the Storm and Curve upgrades are not official and downloading them on your phone can damage your handset and void your warranty. Hopefully, we will see Verizon and T-Mobile send out official versions soon. If you downloaded the leaked firmware, let us know about any changes-good or bad-you've noticed on your 'Berry.
In other BlackBerry news, RIM has upgraded the BIS to version 2.6 for third party email support. when configuring BIS, users now can display password characters making it easier to enter third party email address passwords. The upgrade now allows integration with Gmail IMAP email service and makes sure that sent messages don't appear as received messages.
BlackBerry Storm 9530 Specifications
|
Review
BlackBerry Curve 8900 Specifications
|
Review
source:
Crackberry (Storm)
,
(Curve)
,
MobileBurn