New images show the Sony Ericsson Xperia PLAY with HDMI-out functionality
12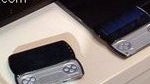 Needless to say that the
Sony Ericsson Xperia PLAY
is one of the best things out there in terms of gaming on a mobile phone right now, but many still complain that one highly sought out feature is missing from the handset – it lacks HDMI-out support!
Surely becoming a standard feature amongst most high-end smartphones, HDMI-out functionality offers handset owners a mirrored experience that lets them interact with the phone normally – while having things being displayed on a high-def television. Well, a couple of new images just recently appeared showing off a distinguishable looking Sony Ericsson Xperia PLAY that's
connected to a television set
via an HDMI cable of some sort.
It's hard to say if this is some kind of new model or simply a modified version of the existing one, but it's definitely allowing games to be viewed in full fidelity through the high-definition television set. Meticulously looking at the images, it's rather hard to confirm if it's showing some sort of HDMI-out port on the handset or relying on the microUSB port. Frankly, it's definitely a nice thing to have on a device like the Xperia PLAY, but then again, the images can also prove to be nothing more than
fakes
.
Regardless, we're sure that HDMI-out functionality is something that's going to be a no-brainer offering with the next version of the handset.
Thanks Philip!
source:
Sony Ericsson Xperia Blog
via
pocket-lint
Recommended Stories