New iPad runs hotter than Android tablets
34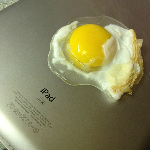 A lot has been made about how much hotter the new iPad runs than its predecessors. Overall, the blame has been placed on the much much larger battery found in the device, as well as the higher-res screen, and the updated processor... so essentially there has been blame placed on everything new about the new iPad. Apple, of course, says that the new iPad is "well within... thermal specifications".
There are indications that a hotter battery can lead to a
quicker degradation of the battery
, meaning a shorter overall lifespan for your battery, so even if the actual temperatures don't matter too much to you, there may be other reasons to be wary.