New TouchWiz vs old TouchWiz: what changed with Samsung's software?
87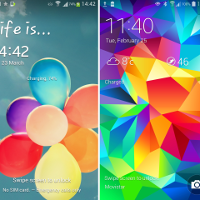 The Samsung Galaxy S5 is now a reality (don't you know it!), and it brought quite a few hardware upgrades along. We're talking a fingerprint sensor, a built-in heart rate monitor, and an even more impressive-sounding, 16-megapixel camera.
But changes didn't only occur under the hood. The software that accompanies essentially every Samsung phone, TouchWiz, has also seen some changes, and as the tradition has it, it was the new flagship S5 that was chosen to bring them to light. We took a good long look at what's different, and compared it with the now older TouchWiz version found on devices like the Galaxy S4. As you're about to see for yourself, Samsung has taken a different approach in terms of the design of the software, and we have to admit that this is a big step in the right direction, and one long in the waiting. TouchWiz has finally grown up, ladies and gents.
Intrigued? Then jump right into our home-made gallery below, and take a peek.