New TV ads for the HTC One are all about BlinkFeed while taking on the Apple iPhone 5
83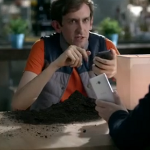 Attacking the competition
has become a common feature seen in the national prime time television commercials promoting a smartphone manufacturer or a specific platform.
Samsung started this back with its ads for the Samsung Galaxy S II
that featured Apple iPhone owners waiting on line to buy the next version of the phone. This continued with ads for the
Samsung Galaxy S III
. The spots would always include Apple fans with their mouths wide open, amazed with the latest technology and features being showed off by the
Samsung Galaxy S II
and Samsung Galaxy S III users.
This year,
Samsung once again went after Apple with its ad for the Samsung Galaxy S4
which shows a clueless iPhone 5 owner waiting to have a picture sent to her device using
S Beam
, which of course, won't work on the iOS flavored Apple handset. "No, yours doesn't do that," says one of the Galaxy S4 users.
The ad that has received the most notice in the industry this year is one surprisingly done by Microsoft for the
Nokia Lumia 920
. Taking place at a wedding,
the spot shows Apple and Samsung users fighting it out
while two waiters stand back, calmly watching the action while each clutches a Nokia Lumia 920. The tag line? "Don't fight-Switch".
That brings us to a couple of new ads for the
HTC One
. Both ads focus on the
BlinkFeed
feature that streams all of the user's favorite content right to the phone's home page. The ad shows an
Apple iPhone 5
user digging and digging and digging for the information he wants, while the HTC One user has all of his important content right in front of him. The second ad is similar to the first one with the Voice Over announcer saying, "
Wouldn't it be better if all of your apps, sites and networks were all in the same place so you didn't have to dig
?" And once again we see an Apple iPhone 5 user doing some heavy duty digging on his phone, looking for his important content. And while both ads show iPhone users leaving gopher-sized mounds of dirt from digging for their content, the ads also take a shot at the
Samsung Galaxy S4
. At the very end of both spots, the announcer says, "
Stop the digging. The

all metal

HTC One
."
source: YouTube (
1
), (
2
) via
RedmondPie