New Samsung video shows the evolution of mobile devices – from brick-sized GSM, through smartwatches, to VR
23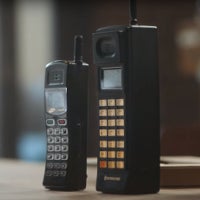 Samsung's marketing team is working around the clock in the days before the official unveiling of the
Galaxy S7
and
Galaxy S7 edge
(cat's out of the bag – it'll happen on the
21st of February
at Samsung's Unpacked 2016 event). Aside from posting the
Seven Days of Unboxing
series on its Swedish YouTube page, Sammy also published a sort of an evolution video on its main Mobile profile.
This one doesn't tease the Galaxy S7 per se, it just takes us on a trip down memory lane – from the very first, brick-sized mobile phones, through Sammy's first attempts at a wearable watch phone (the SPH-WP10), the smallest TV phone (looks like the SCH-M2200), the world's first MP3 phone (Samsung SPH-M2500), then through the Galaxy S and Note line, the Gear S smartwatches, and ends at the Gear VR virtual goggles with the caption "Who knows where progress will take us".
So, not much of a reveal there, just some memories in a cool montage. Though we do believe that Sammy's Unpacked 2016 may focus on VR after the announcement of the Galaxy S7 / S7 edge duo. Sources say that it's very probable that Sammy will unveil its Gear 360 camera – a Bluetooth-connectable gizmo, which can take 360-degree pictures and video, and that Galaxy S7 pre-orders will be bundled with
a free pair of Gear VR goggles
, and — to top it all off — the event itself will be
streamed in 360-degree video
. So, in light of that information, one could speculate that maybe this is the reason why the video stops exactly at VR — Sammy is emphasizing on the new tech, but could this mean that it's also working on evolving it further?