Samsung will unveil a 360-degree VR camera alongside the Galaxy S7
22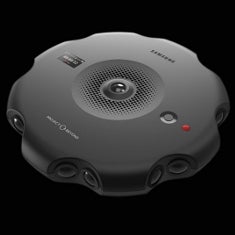 Samsung's
Gear VR
is one of a number of devices to have helped thrust virtual reality into the fore. As part of this movement, the Galaxy maker has already showcased
Project Beyond
, a 360-degree camera that could be used by developers to create experiences for the Gear VR. Last month, Samsung trademarked the name 'Gear 360' in its native South Korea, and at around the same time, rumor suggested that a consumer-focused 360-degree shooter might be in the offing. Now, the folks at
SamMobile
have been informed that the device is indeed real, and that it will be showcased alongside the
Galaxy S7
duo at MWC later on this month.
The report doesn't reveal every key detail, but does offer a solid idea of what to expect. Described as a
"compact spherical camera"
, the Gear 360 achieves 360-degree imagery by virtue of 180-degree fisheye lenses. Through Bluetooth and a supplementary Gear 360 Connect app, the device will certainly operate with the
Galaxy S7
line, and could potentially offer support to recent, top-end handsets like the
Note 5
.
The experience includes a Gallery app as well as a viewfinder, which packs a slew of controls like HDR, ISO settings and the like. Users can film in full 360 degrees at a maximum resolution of 1920 x 3840, or at 180 degrees from either of the two cameras at <1920 x 1920. A live feed of the camera can be beamed back to the connected handset, although it's unclear, at this stage, whether live streaming to other devices is part of the package.
The camera includes its own battery and on-board storage, though the capacities of either have yet to be established. There's also no word on the price at this moment. Considering the accessible ($99) cost of the Gear VR versus comparable devices, one can only hope that the Gear 360 will follow a similar trend, and if Samsung does intend to throw some weight behind the Gear 360, it may also be bundled at a cut price with the Galaxy S7.
Since we can be fairly sure that the Galaxy S7 and
S7 edge
won't appear remarkably different from their respective predecessors, it makes sense for Samsung to have a few trump cards up its sleeve. If the Gear 360 is anywhere near as cool as it sounds, the company could be onto a winner.
Hopefully more details, as well as some images of the Gear 360, will manifest themselves in the near future.