New Samsung CEO vows to shift focus towards "soft capabilities" like design and user experience
7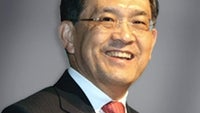 Samsung is doing pretty well these days, as you might have heard, with the vast majority of its newfound wealth coming from mobile devices like Android phones and tablets.
Yet the company is apparently not planning to rest on its laurels, and the new CEO vowed to address some of its weaker spots in his inaugural speech. "
A particular focus must be given to serving new customer experience and value by strengthening soft capabilities in software, user experience, design, and solutions,
" said Kwon Oh-hyun.
What rose Samsung to Android prominence and gave it the title of the world's largest phone maker, was the edge in hardware components of its own make like processors, screens and memory. When it comes to industrial design and user interfaces, things can be improved, and that is precisely what the new CEO will be targeting.
What will the new guy at the helm bring remains to be seen, but he also mentioned that Samsung will be making steps to secure an "absolute lead" in electronics technology too, so the company might indeed be firing on all cylinders under him, and we can't wait to see the gadgets this efforts will bring us.