New Nielsen report has Android commanding 52% of the US smartphone scene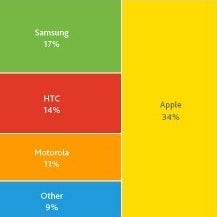 Two thirds of Americans bought smartphones last quarter, with feature phones waning in demand, says the latest Nielsen report.
Out of those smartphone buyers, 54.6% went with an Android handset, while 36.3% bought an iPhone.
We are showing the Q2 2011 smartphone market share chart next to the Q2 2012, and two trends are glaringly obvious - the demise of BlackBerry, whose market share shrank more than 50%, and the rise of Samsung, which now tops HTC as the most popular Android smartphone maker in the US.
Android has seen its market share rise from 39% to 51.8%, and Apple's iPhones went from 28% to 34% now. Both are growing, and Android faster, but everyone else is so squeezed right now, that until Windows Phone 8 handsets hit the market and
eventually
make a dent, we are having a sheer duopoly on our hands.