New Motorola Moto Mods (including a camera supporting interchangeable lenses) are reportedly coming soon
10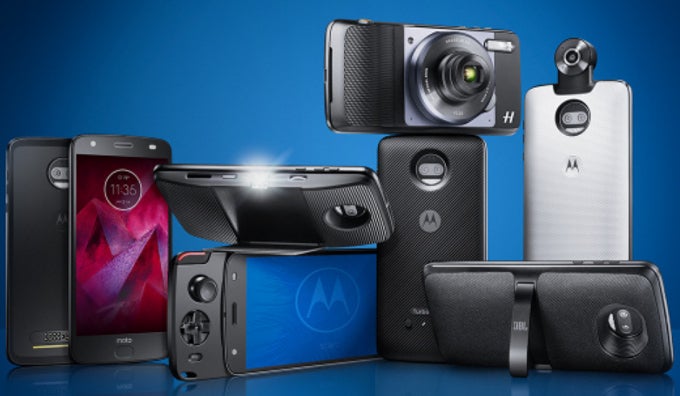 Some of Motorola's current Moto Mods
Motorola Mobility is seemingly getting ready to releaseseveral new Moto Mods for its Moto Z smartphones. The most interesting - andpossibly the most expensive - among them should be a camera Mod with supportfor interchangeable lenses (made by the likes of Canon, Nikon, and Sony). Sucha Moto Mod could transform a Moto Z smartphone into a serious alternative to DSLR andmirrorless cameras, although it remains to be seen how well this can perform.
A second new Moto Mod should be an upgraded projector(offering 35% more brightness and a larger battery compared to the current MotoProjector), while a third one is expected to be a "low cost speaker."
Interestingly, it's said that a drone Moto Mod also exists -this seemingly "has the ability to fly off the back and take a photo ofyou then fly back on its own." Unfortunately, the (unknown) manufacturerof the drone Mod allegedly backed out of planning to release it, and it's notclear if Motorola intends to pursue this idea further.
All these details come from a person who attended anon-public conference where Motorola showcased these unannounced Moto Mods. There is no word on exactly when the new Mods will be launched, but it may happen at the sametime with the Moto Z3 smartphone series - if that's the case, we may have towait until summer for them.
source: Reddit