New Motorola DROID BIONIC ad shows the phone while Verizon also touts the Apple iPad 2
21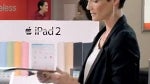 When
we first saw
the current Verizon spot for the Motorola DROID BIONIC, everyone was curious where the phone was. Now that a 60 second spot is showing on prime time,
the longer ad gives us more of the same woman vs. machine action
. The woman keeps winning certain parts of the BIONIC like the dual-core processor, the 8MP camera and the 4G connectivity. At the end of the ad, we actually get a chance to see the phone! Speculation is that the Motorola DROID BIONIC will launch on Thursday and is expected to sell for $299.99 with a signed two-year contract.
Meanwhile, Verizon had been running an ad for the Samsung Galaxy Tab 10.1 and is now running one for the Apple iPad 2. Instead of just throwing some specs out there for the mainstream audience to try to decipher, Verizon showed some
scenarios where the tablet would come in handy
. At the end of the spot, Big Red rings up the sale.
source:
electronista