Motorola DROID BIONIC commercial leaks, shows no sign of the phone but confirms September launch
52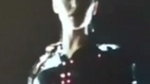 A copy of Verizon's
upcoming commercial for the Motorola DROID BIONIC
was obtained by Android Central. Instead of delving into the features of the mythical handset, or showing off the actual phone, we are treated to what appears to be some sort of gladiator-style contest taking part in a giant stadium. If we do learn one thing from the ad, it is that the
long awaited handset will launch next month
.
At the 28 second mark you will see a QR code briefly flicker on and off the screen. So far, no one has been able to scan it to see what comes up. If you happen to be able to successfully do so, please drop us a comment in the box below. Also feel free to comment on the ad. Is it up to the same quality as the original Motorola DROID spots, or are we looking at something that
reminds you of those impossible to decipher
Palm Pre ads? Perhaps if we could just hear the audio more clearly, we could get a better grasp of what the message is.
source:
AndroidCentral