Google Pixel 4 and Pixel 4 XL hands-on videos leak out revealing almost no surprises
24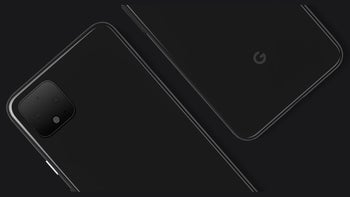 While the
Pixel 4
and
Pixel 4 XL
might not be properly announced before October,
Google has already shared
some details about the design and features of its upcoming smartphones. We've also seen various leaked images and renders depicting the two devices. Today, we can take a closer look at the smaller among them - the Pixel 4 - thanks to a short hands-on video that popped up on Facebook.
Posted
by a Malaysian retailer
, the hands-on video that you can see below doesn't reveal any surprises about the Google Pixel 4. Nevertheless, the video seemingly confirms the fact that the phone's front has an asymmetrical design - the device has almost no chin, while the top bezel is noticeably thick. The back of the phone is quite shiny and hosts a dual camera with LED flash. Power and volume buttons can be spotted on the right side, and dual speakers seem to be found at the bottom, flanking a USB Type-C port.
Since Facebook videos can't be embedded here, here's the leaked Pixel 4 video mirrored on YouTube by Slashleaks:
Google Pixel 4 specs and features
According to leaked information, the Pixel 4 sports a 5.7-inch display with 1080 x 2280 pixels - thus, the handset should be about the same size as the Pixel 3 from 2018 (this has a 5.5-inch screen but its bezels are thicker). The new Pixel is expected to pack a 2800 mAh battery and be powered by a Qualcomm Snapdragon 855 processor aided by 6 GB of RAM (it's also possible for the processor to be the newer and slightly superior Snapdragon 855 Plus). There should be two versions of the phone, one with 128 GB of storage space, and another with 256 GB, neither offering support for microSD cards.
The Pixel 4 will run
Android 10
out of the box - this is already available for older Pixel phones, bringing new stuff like a built-in Dark Theme and enhanced gesture controls. Thanks to a
mini motion-sensing radar
dubbed Soli, the Pixel 4 will let you snooze alarms, skip boring songs, silence phone calls, and more, just by waving your hand.
All previous Pixel phones have been great when it comes to photography, and we expect nothing less from the Pixel 4. It's said that the new handset's dual rear camera is comprised of 12 MP and 16 MP cameras, one being used for optical zoom. The front-facing camera should also be a dual one, likely providing wide-angle photo and video capabilities.
What about the Pixel 4 XL?
Just like the Pixel 4, the Pixel 4 XL won't have any notch (in a departure from the design of last year's Pixel 3 XL). Basically, the two new phones should look almost identical, with the mention that the XL will be larger, allegedly sporting a 6.3-inch display with 1440 x 3040 pixels. Unsurprisingly, the battery of the Pixel 4 XL will be bigger, too, reportedly being a 3700 mAh one. Furthermore, the Pixel 4 XL is expected to have an extra sensor on its rear camera, which will be able to capture a wider range of colors. All other features should be identical to those of Pixel 4.
Update
: Slashleaks now also has a video showing a white Pixel 4 XL - this is somewhat surprising!
Google Pixel 4 series price and release date
Best Buy is already allowing customers to
sign up for news on the Google Pixel 4
series. The retailer doesn't say when or for how much the new phones will be released, only mentioning that they are "coming soon." Earlier this week, both new Pixels have been
approved by the FCC
- all mobile phones need to be tested and approved by the FCC before they can be sold in the US.
Google is expected to officially reveal everything about the Pixel 4 and Pixel XL in early October. Most probably, pre-orders will be open at about the same time, with the handsets reaching customers later in the month (right now, the rumored launch date is October 18).
When it comes to pricing, Google may want to keep things unchanged from last year, when both the Pixel 3 and Pixel 3 XL were launched starting at under $900. If that's the case, the Pixel 4 could be sold starting at $799, while the larger Pixel 4 XL might cost at least $899.