New Google Photos app is here: hands-on and APK download link
5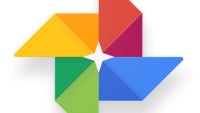 The new Google Photos app has arrived and you can sideload it on your device right now. We already did and we're eager to give you a quick hands-on look at all the exciting new features of Google Photos, improved and now detached from Google Plus. Skip to the bottom of this article for a download link to the new Google Photos APK.
The app is a 23MB download, and welcomes you to a cheerfully spinning logo and a question whether you want it to backup high-resolution files (Google said that it saves 16-megapixel versions of your photos which would be more than enough for most people) or the full-on original files.
The advantage of backing up high-res images rather than the originals is that you have unlimited storage for those files in the Google cloud. Backing up full resolution images, on the other side, counts against your allowance of Google Drive data, and once you go over the 15GB limit, you have to pay for additional storage. Nonetheless, having the option to back up original files is especially useful for photography pros and enthusiasts.
Once you select your preferred type of backups, Google Photos has a four-slide quick walkthrough that shows you the essential new features. After that, you're off to the app itself.
Four different views
You have four different options to view your images:
Comfortable view
Compact view
Day view
Month view
We're particularly impressed with the comfortable view that spreads images to the full width of the screen, showing them in one column, a real immersive look at your images. You can then switch to smaller thumbnails of your images to quickly navigate between files, going into compact, day and month view. Rather than selecting views, however, there is a simpler way to switch between these new views: simply pinch to zoom in and out.
There are now also automatic collections of images that group all pictures from a particular event or an outing you've experienced in a fancy slideshow that goes under the Collections menu. It's a nicer way to look at an event with images sorted out in a magical way by their relevance and time stamp.
Sharing: no more annoying Google Plus circles - share easily everything, with anyone
The first truly big improvement - especially in comparison with the earlier Photos app, as it was in Google Plus - is sharing.
With the new Google Photos you can share everything.
What does this mean? A lot, and trust us, you'd love sharing things with this new app. You can share albums, you can share collections, you can share selections of images, and you can share individual images.
In order to do this, simply press the 'share' button, and then select 'Get link'. With this link now copied in clipboard, you can paste it in a message and this results in a link that you can send to anyone - no need to worry about permissions and other complications that you had to deal with before. The user on the receiving end can then view the images and download them to their device, and if they are signed into their Google account, they can add them to their own image collections in Google Photos on the cloud.
The future is now: automatic search and filtering
The most impressive feature of Google's new Photos app, however, is search. Google's traditional strength gets a futuristic boost, and search for photos allows you to simply type something like 'buildings' to automatically get all the images in your roll that have buildings in them.
Do you know what's even more impressive? This actually works.
We tried typing 'flowers', and amazingly, it showed us all pictures of flowers, even some that we didn't know we ever captured. And yes, it does recognize shapes, places, and just about anything we threw at it with amazing accuracy. You have to try this out yourself, it's that impressive.
Editing and filters
Naturally, you have some basic editing options in the Photos app as well: cropping, rotating the image, and basic color corrections are all done tastefully well and work nicely. You have a bunch of filters to tinker with as well, and you can create collages from 2 to 9 images (unfortunately, there's no way to change the order of images in the collage, it's all automatic).
In conclusion, we are truly impressed with the new Google Photos app and will be using it a lot more in the future as it instantly gets a place in our list of essential Android apps.
Download link