New 'Glassware' available for Google Glass includes apps from CNN, Twitter and Facebook
1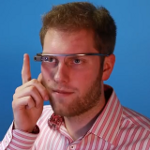 The second day of Google I/O has brought a number of
new apps
to Google Glass from some household names like CNN, Twitter and Facebook. Other updates are being offered from fashion site Elle, microblogger Tumblr and reminder note app Evernote. Google has been trying to get developers to write apps, which it calls Glassware, for the specs.
Instead of just moving apps over from the Google Play Store, developers are being told to write their apps specifically with Google Glass in mind. Unlike a smartphone, Google Glass is in the user's line of sight and carries a
smaller screen
. Therefore, certain images that would be acceptable for a smartphone app could be in the way of a Glass user and block the screen.
CNN's app allows the Google Glass user to select subjects of interest and the time of day to receive updates. A short summary can be read or heard aloud followed by a video clip. Elle's app allows users to select the section of the magazine they want to read on Glass. They can also go through a series of pictures from a story and have part of an article read to them. Elle has put together a dedicated team that has the job of turning content from the magazine into Google Glass specific content.
The Facebook app will allow users to share pictures taken with the specs, and Twitter's app allows tweets to be transcribed
by voice
. Tumblr's app offers user's a look at the full feed or just specific updates. With Evernote, a grocery list composed on the web site can be sent to a Glass wearer so that he can receive it while on the go.
An interesting new game called
Ice Breaker
is also now available for the device. Made by one of the developers who was an early buyer of Google Glass, it send out a notification to a Glass wearer who is playing the game nearby. The two Glass users meet, take pictures of each other, and rate the conversation.
All of the Glassware will be available to those who paid $1500 for the device. While other apps are being developed, there is not yet a Google Glass app store from where they can be downloaded from.
source:
NYTimes