New Apple Pencil patent shows a stylus with numerous touch sensors
28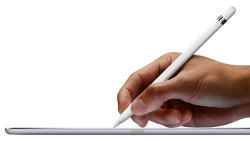 Last year, Apple introduced a new product, some might consider shocking — a stylus (gasp)! The new
Apple Pencil
is an accessory for the
iPad Pro
line, allowing professionals to use it as an elaborate drawing and handwriting tool.
Today, the USPTO published a patent, submitted by Cupertino in 2014. It details a stylus covered in touch sensors along its length. It may be a bit weird to imagine tapping different parts of the Pencil, but that's not exactly what Apple seems to be planning. According to the patent, the gizmo would employ said sensors to read the way the user is gripping the Pencil, as well as various gestures, such as rotating the stylus in hand, and have the iPad's software react accordingly.
This is a rather cool upgrade, but, since it's just a patent, it may never see the light of day. We have heard, however, that the next iteration of the Apple stylus may have
interchangeable tips and an eraser
, which sounds quite plausible, since
3rd party manufacturers
have already been doing it for quite some time.
An additional array of force-sensitive sensors are also listed, which would react when the user grips the stylus more firmly. This could potentially help with increasing drawing precision by letting the user "lock in" points in the drawn line, or, alternatively, activate various virtual buttons.
Another patent details a way that future iPhones may be able to determine which hand the user is holding the device with and adjusting its UI appropriately — sort of like a dynamic one-handed mode. The patent outlines the need for very quick and accurate reading of the situation and use of touch sensors along the phone's sides to do so. The device should be able to follow the user's thumb in order to better understand how to best arrange the UI. This, if it is ever done, should be of very good use to owners of the rather large iPhone Plus units.
source:
AppleInsider
via
SlashGear
Recommended Stories