New Android remote killswitch will be able to completely brick devices
14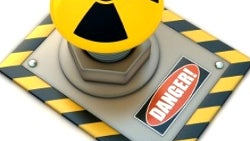 Android's
Device Manager
has been providing protection for your lost device for a while now. If you happen to misplace your handset, the web app can help you locate it, make it ring, show an on-screen message for anyone who finds it, lock it, or wipe it clean. However, the system is still not perfect and your data is still at some risk of being accessed when your phone falls into shady hands.
Well, Google seems to be adding an extra option to go nuclear on your handset, if you feel like you will never see it again and would rather have it rendered to a glorified paperweight. Eagle eyes have spotted new lines in the Android Open Source Project, which will allow users to remotely brick devices. The process allows for a command that can wipe everything – even the boot and recovery partitions – on the handset.
Ultimately, it will be up to manufacturers just how much nuclear the bricking command would get. According to the report, phone makers will be able to define which partitions would be deleted when the big red "Brick it!" button is pressed — there is even an option to include the external SD card in the process. However, if all partitions are wiped, it's safe to say that the phone is unsalvageable — unless it's sent back to the manufacturer for a fix.
source:
AOSP
via
Android Police