Android Device Manager now active, ready to help you find your lost or stolen phone
13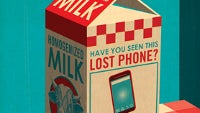 Last week, we told you about the Android Device Manager,
a website that Google developed to help find lost or stolen Android handsets
. The website is now live and ready to help save you a ton of heartache. Your missing phone will show up
on
a map and will also show you when it was last used. And if your worried about information falling into the wrong hands, your device can be
remotely wiped
.
There are even some tools for those who know that their Android phone is in the house somewhere, and has tried to escape along with the television remote and about 5 to 6 pairs of your socks. The difference is, using Device Manager, you can have your phone ring at
full volume
for as long as five minutes. We could see this being used as a form of torture, but we have to add that you probably have a great chance of finding your phone using this feature. And with the website, PIN numbers can be changed even if the phone is in the hands of some thief hundreds of miles away.
First thing you need to do is to install the
Google Apps Device Policy
app on your handset, a free download from the Google Play Store. Then you can register your phone with the service. There will be occasional check-ins. And while many of these features have been seen before for Android phones from security apps like Lookout, this is the first time that Google itself has offered this type of protection.
Recently, law-enforcement officials have requested that
handset manufacturers come up with a remote kill switch
in order to reduce the staggering high number of smartphone robberies that have afflicted major metropolitan areas like New York City and San Francisco. Those two cities have some of the most alarming theft rates in the nation for smartphones. While criminals used to exclusively target the Apple iPhone, the
Samsung Galaxy S III
and
Samsung Galaxy S4
are now also being ripped off in record numbers. Samsung itself is
now offering LoJack for the Samsung Galaxy S4
.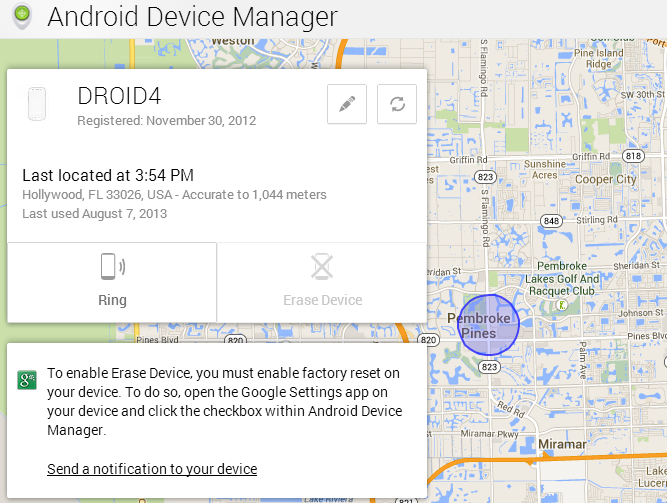 The Android Device Manager website can help you track your lost or stolen handset
source:
AndroidDeviceManager
via
SlashGear