New & upgrade customers can fetch the HTC Droid Incredible for $199.99 at Best Buy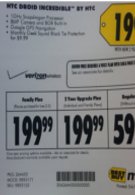 Verizon customers who are already smelling the air and feeling very fond of the HTC Droid Incredible will surely have to plan strategically where they intend on purchasing the device on launch day. Although it's still up in the air as to which date Best Buy plans on launching the high powered Android handset, it looks like both new and existing customers who are eligible for an upgrade can fetch themselves the HTC Droid Incredible for $199.99 plus tax – no rebates required for this one. It makes it even sweeter when you know you're only required to dish out that amount and nothing as opposed to those Verizon stores which asks you to throw out $299.99 upfront to get back $100 in the form of a mail-in-rebate. And for those who opt to purchase it at the full cost with no contract commitment required, just expected to lay out a hefty $599.99 for the smartphone. Whichever way you decide to go after the HTC Droid Incredible on launch day, just keep in the back of your mind Best Buy's no mail-in-rebates required to get the deal on the phone.
Thanks to our anonymous tipster
HTC Droid Incredible Specifications
If you have some interesting info that you'd like to share with us, feel free to
Tip Us!