Never mind Netflix: the iPhone 8 and 8 Plus don't have HDR displays, the iPhone X does
36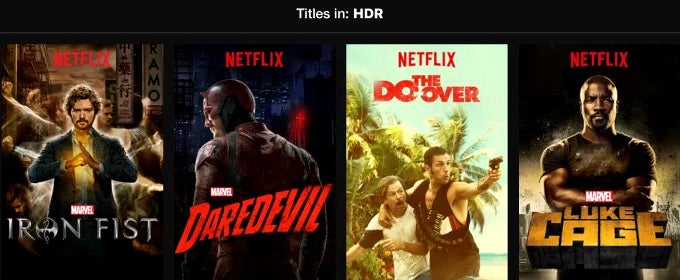 Netflix 9.0 for iOS brings HDR titles to the iPhone 8 and 8 Plus, but just barely
While the
iPhone 8
and
8 Plus
are now in the
official list of Netflix-certified phones
that can display its HDR10 and Dolby Vision content, you won't be getting the real HDR experience, as the standard's requirements are only covered in full by the upcoming
iPhone X
. Not that Apple has been claiming otherwise, as it does list just the iPhone X as fully HDR-compliant in its own specs comparison table with the iPhone 8 and 8 Plus.

So, why did Netflix list the two new iPhones in its
mobile HDR roster
? Well, the same reason that the
G6
popped up as the first phone that
covered the Netflix Dolby Vision display requirements
, despite that it doesn't have a panel that can, say, do a 1000 nits of brightness. Apple has even reached out to Mashable and clarified that iPhone 8 and 8 Plus adopters "
will see visual enhancements to dynamic range, contrast, and wide color gamut when playing Dolby Vision or HDR 10 content from their respective content providers, but it will not be at the full level of HDR visual fidelity as it'll be on the iPhone X, which does have an HDR screen
."
There you have it, you do get a boost in color gamut, contrast and other enhancements when you watch HDR Netflix shows with your
fancy Premium subscription
on the iPhone 8 or 8 Plus, and that could be all that matters to the untrained eye. The G6 panel also doesn't fully cover the Dolby Vision standard, but the folks from Dolby are on record saying about their mobile certification that "
our colorists actually tune [the LCD screen] so it maps with the displays used by content creators
."
The OLED display panels have much higher contrast ratio, though, which is one of the HDR standard requirements, so that might be why Apple lists only the iPhone X as having an HDR-worthy display, as you can see below, while the other new iPhones only "support" it.