Netflix joins YouTube in launching DIAL AirPlay-like service
3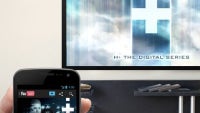 YouTube and Netflix are working on a joint solution for wireless streaming and control of devices called
DIAL
, a possible rival to Apple's AirPlay. We are saying possible as AirPlay functions slightly differently, mirroring the content of say an iPad to a TV, while DIAL (an abbreviation for
"Discovery and Launch"
) while also focusing on easy discovery of nearby devices instead of mirroring will focus on the two devices having the same apps.
What this means is that if you have the Netflix application on your Android device, you can walk into a room with TV and have it open the Netflix app and then browse for movies on the larger display.
But what if there is no appropriate app on the TV? Simple, DIAL will automatically redirect to the respective app store. So in a nutshell you'd be able to control your second screen remotely rather than mirror the first one directly. It's a different approach and a more restrictive one obviously, but it would definitely fit some user case scenarios.
What's most impressive about this service however is the fact that it's a partnership of two of the biggest video services out there. Netflix saw the benefits of scale and says that
"having two major video services define and promote DIAL would help get it more widely adopted as a common solution to a common problem."
Interestingly, DIAL is already implemented to some extent on 2012 Samsung and LG TVs and in Google TV set-top boxes, so it might be very close to reality.
source:
GigaOM