NVIDIA shows Tegra 4i reference design 'brand' phone, Tegra 4i retail phones coming in Q1 2014
33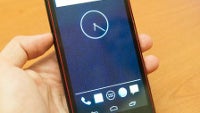 The Nvidia Tegra 4i chip promises unmatched graphical performance in smartphones and on-chip LTE, and while we are still waiting for the first commercial devices with it to come in the beginning of 2014, Nvidia is showing a working reference design phone right now.
The Tegra 4i Phoenix reference design is a very slim device measuring 7.9mm thin. Its width is 72mm and height is 138mm.
The handset carries the name 'brand' on the back, which will be replaced by manufacturers names in actual retail devices. It's got a 4.8-inch 720p screen and a 13-megapixel camera, and the Tegra 4i is paired to 1GB of LPDDR2 RAM. The 'brand' phone comes in three models with 8GB, 16GB or 32GB of internal storage.
Best of all the Nvidia Tegra 4i 'brand' phone will cost less than today's flagships coming in at around $300 to $400 without a carrier subsidy, and there will be an even cheaper Tegra 4i phones going as low as $200.