NVIDIA CEO discusses the future, says we are "moments away" from dynamic, interactive app logos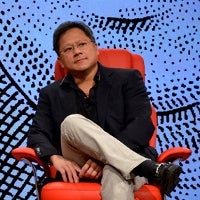 NVIDIA's opinionated CEO Jen-Hsun Huang, who sometimes tattoos the Tegra logo on his shoulder, had interesting things to say as the closing guest at the AsiaD conference.
If smartphones and tablets start selling like computers were before the mobile revolution, Jen-Hsun Huang envisions a future where NVIDIA might work on chips tailored to a specific device, not the cover-it-all approach of chipmakers now:
In order to build these system-on-chips, we need 500 chip designers and 1,000 software engineers to bring them to market. Two or three years each, so not exactly economic to build 'em for just the tablet, but some versions are perfect for tablets, some for high-end smartphones, somewhere between two segments. A long time ago there was only one CPU shipping at the time, and that was from Intel; and now there are many. We started out with the smartphone, but it's going to explode to all kinds of mobile devices. We also have the car market, the ultimate mobile processor.
On the topic of Windows 8, whose ARM version was first demonstrated on a Tegra 2 platofrm, and then last month
on the quad-core Tegra 3
, he said that Microsoft should release it first for tablets to clearly make a statement that this is not a PC system. If Redmond manages to port Office to Windows 8 on ARM, he said, then it will have a killer platform on its hands, since everything else can be found online.
Jen-Hsun Huang also peeped into the
future of interfaces
, claiming that we are "moments away" from things like interactive app logos, icons constantly changing color or sophisticated textures due to the power-sipping silicon coming down the pipe. That's what we like to hear.