NVIDIA Grey chipsets may power Windows Phone handsets starting 2013
7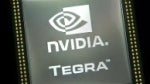 When it comes to hardware, the Windows Phone platform has been Qualcomm territory from day one, but it seems like NVIDIA is planning on joining the party. That is what becomes apparent from the leaked NVIDIA roadmap, which the guys from
Heise Online
managed to get their hands on.
If the information presented in the roadmap is correct,
chips made by NVIDIA are bound to materialize under the hoods of Windows Phone handsets
by the end of 2013. The Grey chipset, as it will allegedly be named, is expected to combine multi-core processor power with 3G/4G hardware provided by Icera – a baseband modem and radio equipment manufacturer, which NVIDIA acquired earlier this year.
We can only guess how the chipset will perform when compared with the competition, but a closer look hints that it might not be the very best that NVIDIA will have to offer at that time. The Wayne chipset appears to be planned for debut a bit earlier than Grey and will power Android superphones and tablets. Grey, on the other hand, seems to be meant to tick inside hardware powered by Microsoft software. Still, quad-core central processing unit and graphics nearing the level of today's latest consoles is probably the very least we could expect from a chip such as Grey.
This is about all the information that we can squeeze from the leaked roadmap, but if you happen to spot something that we didn't point out, feel free to drop a comment for us below.