NSA buster: keep tab on which app is transmitting information to whom with the viaProtect Android app
7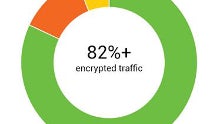 In the day and age when governments, companies, marketers, and assorted hackers, have their prying eyes on our digital life, smartphones have become a godsend for each and every tracking purpose. They can log our movements, location, searches, messages and calls, and send that information freely to anyone without the average user ever realizing what's going on.
After the
NSA snooping revelations
, there has been a proliferation of privacy-oriented apps. We already
reviewed the secure messaging client Telegram
already, and now we focus your attention on the viaProtect app. This new application for Android promises to keep tab on your phone's overall communication habits, telling you which pieces of your personal information get sent out, and to whom. You have to make an account with the service, and the granular breakdown by app is only available when you log into said account on the company's website.
The viaProtect app can tell you which of the information transmitted is insecure, and what services your phone communicates with, so if you see something suspicious, you can react accordingly. The phone also gets an overall security rating, so if you are interested if there are any "leaky" apps on your phone, transmitting personal info to weird services, you can take viaProtect for a spin from the download link below.
| | |
| --- | --- |
| Developer: VIAFORENSICS | Download: Android |
| Category: Tools | Price: Free |