NOVA 3, Asphalt 7 arriving on Windows Phone 8
3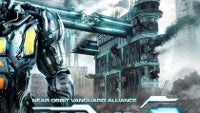 The
Windows Phone
Marketplace might already have 100,000+ apps, but after a certain number, the quantity starts to matter less and the quality starts to weigh more. And when it comes to app quality titles like
NOVA 3 and Asphalt 7
set the benchmarks for iOS and Android. Now, they are coming to Windows Phone as well.
Oh, and if you're in the mood for some classical gaming, you wouldn't want to miss
Fairway's Solitaire
now, would you? That's also coming to the Marketplace soon. Interestingly enough, the port only took two weeks.
And if you want mroe fun apps, you should know that Zynga is bringing
Words with Friends and Draw Something
to the app catalog as well!
Additionally, games in the Marketplace will now come with support for in-app purchases which opens the door for the big gaming studios to start bringing some of their titles. The freemium model - like it or not - is picking up pace, and some companies like EA have said that they plan to focus almost exclusively on freemium titles.
And again, Microsoft has repeated the same mantra - sharing code between Android and iOS is easier than ever. So does this mean more high-quality games to now come on Windows Phone? It seems that the answer is yes, but we'd let time say for sure.
source: Microsoft