NBC's top play-by-play man still can't tell an Apple iPad from a Surface Pro tablet
26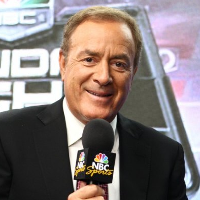 Sportscaster Al Michaels is known for his call of the final seconds of the Miracle On Ice when the U.S. Olympic Hockey team stunned the Russians to win the Gold medal in 1980. "
Do you believe in miracles?
," screamed Michaels as the buzzer sounded closing out the most famous upset in hockey history. That was more than 35 years ago, and back then, a tablet was something you swallowed for a headache. No one could have predicted the advances we would have in the way of mobile devices over the years.
Last year,
the NFL worked out a $400 million deal with Microsoft
that gave teams the chance to use
Microsoft Surface Pro 2
tablets on the sidelines and in the coach's box during games. The slates are under lock and key during the week, and are escorted to each team by NFL officials on game day.
While this deal would seem like one that would provide Microsoft with plenty of exposure and promotional opportunities, there was a big risk involved. Too many times to remember,
the Surface Pro 2 was referred to on national television as an Apple iPad
. Microsoft officials were upset to say the least. During the off season, NFL broadcasters had it pounded into their head that the Microsoft Surface Pro tablet is not an iPad.
After network play-by-play men spent months learning the difference between the iPad and the Surface Pro, during coverage of the opening game of this new season on Thursday evening, a contest viewed by millions, Al Michaels was commenting on the shot viewers were seeing at home of New England coach Bill Bilichick looking at his Microsoft Surface Pro tablet (it isn't clear if the NFL upgraded to the
Surface Pro 3
for this year). Michaels' comment to all of those potential Surface Pro buyers watching the game on television? "
Bill Belichick working on his iPad
." Seems like Microsoft spent all that money to help promote its rival to image conscious NFL fans. You want Al Michaels to call another miracle? That would be him getting the name of the Microsoft Surface Pro correct.
source:
CNET