Modified Microsoft Surface Pro 2 tablets to replace Polaroid cameras on NFL sidelines this year
10
Remember those images you would see during an NFL telecast, showing coaches and players going through a folder of Polaroid pictures? Those photographs were taken from the sidelines, and from the coaches' box, to help find a weakness in the opponent's offensive or defensive formations. But starting with today's Hall of Fame Game between the New York Giants and Buffalo Bills, each team will use a new technology that will give both teams color, digital pictures, delivered to the coaches faster than before.
The new technology happens to be a fleet of
Microsoft Surface Pro 2
tablets, modified for the job. The slates will feature a thick blue case to help them survive a full NFL season, and are the property of the NFL, not the individual teams. Certain restrictions have been put in place regarding the storage of the devices, to prevent cheating (hear that, Bill Belichick?).
Microsoft and the NFL entered into a $400 million deal that made the slate the official sideline computer of the league. Besides the thick blue case, other modifications include the disabling of the camera, limited connectivity to a wireless network that runs inside each stadium, and a waterproof screen. There is only one program that each tablet will run. That program, called the
Sideline Viewing System,
will allow coaches to view digital game photographs.
The tablets are locked up in temperature controlled carts, before being handed out to each team before kickoff. 13 tablets will be on each sideline during the game, while another dozen will be deployed in the coaches' box. During the course of the upcoming season, we are sure to get some televised shots of the tablets doing their thing on the sideline.
Microsoft Surface Pro 2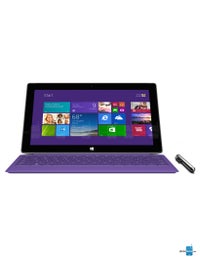 source:
Bloomberg