NBA 2K14 arrives on App Store
5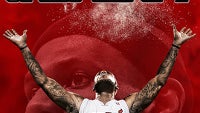 The latest NBA2K14 has finally arrived on Apple's App Store, and it is also available on the Amazon Appstore for Android.
NBA2K14 has the great graphics of last year's NBA game, supports one-finger controls and multiplayer via Game Centrel on iOS devices. Of course, you get the teams with their latest rosters and you get to control your favorite players, be it King James, Kevin Durant or whoever you want to get in the shoes of.
Additionally, the game comes with an energizing soundtrack that has been selected under LeBron James' supervision.
Good news is NBA2K14 is free of in-app purchases and it's available for a single price on both the iPhone and iPad. Hit the link below to get it. The game is not yet available on Android's Google Play.
source:
iMore