Google Nexus One becomes the first PhoneSat in orbit
12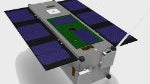 It seems like something that should have been studied long before now, but Surrey Satellite Technology and the University of Surrey's Surrey Space Centre has decided to look at how off-the-shelf electronics fare with the harsh world of space. With that in mind, the group has put the Google Nexus One into orbit, making the phone the first PhoneSat to be in orbit.
The group is studying a number of other things, but the interesting thing for us is the Nexus One. On Monday, the Nexus One was launched into orbit in a CubeSat called STRaND-1. A CubeSat is a small satellite that is only about 10cm cubed. In addition to the Nexus One, the STRaND-1 also houses altitude and orbit control system, two propulsion setups and a Linux-based computer with a "high-speed" processor.
In addition to studying the effects of space on consumer-grade electronics, the STRaND-1 will be putting into use apps that won a contest last year. One will give users photos from the Nexus One pinned to the map, and another will play user-submitted "shrieks" and attempt to record them using the Nexus One's mic, although we're not sure that the idea that there's no sound in space needs more testing at this point.
If nothing else, this may be the last time we hear about the Nexus One until it becomes a bonafide antique.