N.Y. Times claims Palm Pre will be released first week in June
This article contains unofficial information.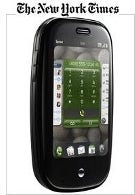 The New York Times weighed in on the new national pastime of guessing the release date of the Palm Pre. In an article published on Monday, the Times wrote about the upcoming summer season of blockbuster smartphone releases and said that people who have been briefed on Sprint's plans have been told by the carrier to expect the launch of Palm's handset during the first week of June. That timing would fit in perfectly with our previous
report
of a LAUNCH LUNCH being held by the manufacturer on June 5th at noon. A release during that timeframe would also allow Palm to trump any iPhone announcement that Apple might have at its WWDC that kicks off June 8th at 10 am with a
keynote speech by Apple Executive Philip Schiller
. For the Times, it is all the Palm Pre news that is fit to print.
Palm Pre Preliminary Specifications
|
Hands-on
source:
N.Y. Times