Myth Defense 2: Dark Forces arrives on Android, allows you to play as the baddies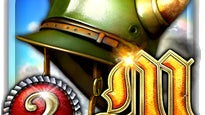 Are you fed up with games that require you to battle against the forces of evil? Do you feel sincere compassion for the numerous species of orcs, goblins, and trolls that fall victims to the forces of good? Have you ever wondered what would it be like to side with the evil creatures that usually get destroyed? Well, if the answer to all three of the above quiestions is "Yes!" and you are sporting an Android-powered device, then Myth Defense 2: Dark Forces is just the right mobile game for you.
Myth Defense 2: Dark Forces is a new tower defense game that allows you to play as the forces of evil - the same baddies that have been repelled in the prequel of the game, called Myth Defense: Light Forces. Now you will have to withstand the onslaught of the forces of the Light, which quickly advance towards your grim realm. You will have to protect your keep at all costs, and failing to do so will surely result in a "Game Over" sign.
Myth Defense 2: Dark Forces comes with two gameplay modes – Campaign and Battle. While playing the campaign, players have to successfully defend their stronghold on more than 50 different maps. Each of these maps can be replayed several times on either normal or heroic difficulty. If you don't feel like playing the lengthy campaign, you can also engage in a quick battle on a randomly generated map.
Every self-respecting tower defense game comes with a great variety of defensive mechanisms and Myth Defense 2: Dark Forces is no different. There are more than 20 different types of upgradeable towers and traps that can be built in order to repulse your enemies. However, some of the foes in the game are immune to certain towers, which means that you'll have to build a variety of defensive mechanisms if you want to put off the impending doom of your realm.
Myth Defense 2: Dark Forces is free to download and play, but if you want to benefit from some additional game features, you will have to unlock the full version of the game by making an in-app purchase. The developers state that additional content packs for the game will be released very soon.
Download: Myth Defense 2: Dark Forces (
Android
)