Mystery of the sliding Lumia 920: phone develops a mind of its own when lying flat
36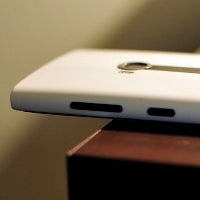 Owners are reporting that they have witnessed their
Nokia Lumia 920
just slide away when lying flat on some surfaces, dropping on the floor as a result. Now,
the phone is built like a tank
, and nothing happened to it when it slid, but it wasn't vibrating with notifications or anything that would cause it to move while just standing still.
In the video below, the forum member Cheyenne Price documented the time when his
Nokia Lumia 920
got possessed by the joy of
motion
, lying face down on the lid of his Dell laptop. The handset starts slowly sliding towards the
edge
of the computer, ready to tip over towards the carpet.
There is a pretty probably explanation to all this, which another forum member, mparker, gave about the mystery of the sliding Lumia 920:
This is simple physics. In your video (thanks for posting the link btw) the phone is face down, on a laptop. The screen on the L900 is a low-friction surface, and the plastic on those dells is also a low-friction plastic. This means that absent some mechanical restraint, the phone will slide at fairly low angles. Between the foundation, table, and laptop there's enough tolerance stacking going on that the top of that Dell is likely to be significantly tilted. Have you put a level on it to verify that it's as flat as you think?

Here's another experiment for you: Put an ice cube on top of the Dell. See if it slides off on its own as it starts to melt. It's the same principle.
The thing is that the Lumia 920 is heavier than today's average smartphone, so gravity is working overtime with it to make the sliding happen, especially if the surface it lies on is not utterly flat, and the friction with the phone is low.
Other users are reporting similar experiences with different handsets, too, like the
HTC 8X Windows Phone
, and you might have experienced the same thing with a phone of your own, too. If so, sound off in the comments. One thing is for sure - the attention to minute Lumia 920 details seems to be reaching iPhone and Galaxy S line levels.