Mysterious T-Mobile LG handset leaks out, boggles the mind with two screens
19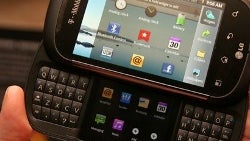 This mysterious
LG handset with T-Mobile branding
just leaked out at an Orange event in London and if looks everything but ordinary – the Android-powered handset has a slide-out
full QWERTY keyboard, split right in the middle
where surprisingly you see a
second touchscreen
. It can fit as much as 8 app shortcuts, which sounds like a quick way to access your applications without fingers getting in the way, but we can think of a number of other possible uses (cough, gaming).
British tech blog Pocket-lint got its hands on the mysterious LG device, but couldn't confirm many other details – the handset could be the
LG Flip II
, according to a hesitant customer rep, but it could also turn out to be the leaked LG Maxx Q. Unfortunately, there were no other details on the practical usage of the second screen.
Design-wise, the handset features four capacitive buttons and a moderately sized screen up front, but it's the earpiece that reminded us of the LG Quantum with Windows Phone. The hefty device seemed far from final with moving parts and unspecified resolution of the camera. But it's the split keyboard and second touchscreen that adds spice to the mysterious handset. Excited? We wouldn't write off the possibility of this being just a
prototype from the past
which will never make it to the shelves, but our hopes would be for a new arrival at T-Mo. Have you seen this handset previously? Feel free to share your impressions in the comments below.
Recommended Stories