Mysterious Amazon smartphone might come in less than 6 months: to feature six cameras and gesture control
9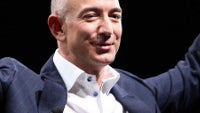 After years of countless rumors, the Amazon smartphone might finally come to fruition in less than six months.
KGI Securities analyst Ming-Chi Kuo, known for his great track record on companies like Apple and Samsung, has now issued a note to clients about the mysterious Amazon smartphone, and BGR has also confirmed a lot of the features that Kuo talks about.
"We predict Amazon (US) will launch its own brand smartphone in 3-6 months, using the same hardware strategy as used for its e-reader and tablet,"
Kuo wrote in the note.
"The supply chain will start stocking up materials in 2Q14 for production. We estimate required components will amount to 700k-1.2mn units, and assembly to 300-600k units. Related suppliers will start to see benefits in 2Q14."

We ought to mention that Amazon's strategy for its Kindle e-readers and tablets is to price them very close to their cost, selling them at near-zero margins. Instead of relying on profit from devices, Amazon is counting on increased use of its services that comes with new devices. That's why the devices it sells usually feature heavily modified interfaces with Amazon's services shown in a prominent place.
"The key feature of the smartphone, we believe, will be the six cameras"
"The key feature of the smartphone, we believe, will be the six cameras,"
Kuo continues.
"Aside from the main camera, which is used to take pictures, and the sub camera, used for video conferencing (these are both found in all smartphones), we think the other four cameras will be used for gesture control, allowing users to operate the smartphone without touching the touch panel."

We can only add that this is a recurring rumor, and its recurrence is what adds some extra weight to it. However, it's hard for us to imagine the actual practical benefit of a no-touch gesture control for a smartphone. Hopefully, Amazon surprises us with something, though.
"Given the highly competitive smartphone market, Amazon will have to provide users with a unique experience to differentiate its phone from other brands. It would do this by integrating the smartphone with its own services such as e-commerce. If Amazon's smartphone is a hit, we would expect shipments to grow significantly due to the hardware features and business model. At the current stage, when market acceptance is unclear, we preliminarily forecast shipments of 300-600k units in 2Q14 and 2-3mn units in 2014."

Basically, what this means is that Amazon will not jump all in with large-scale mass-production of its smartphone, but will instead gauge consumer interest first. Having the flexibility to scale manufacturing up quickly is a great asset that a big company like Amazon can enjoy, and overall this seems like a very reasonable strategy in a quickly saturating smartphone market.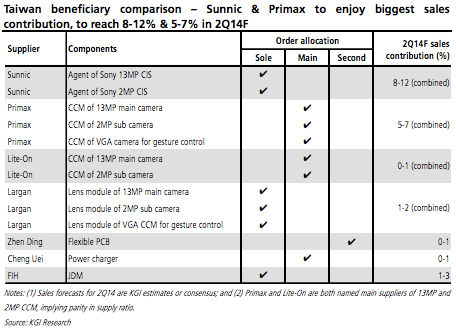 "While Amazon's smartphone is at the experimental stage, we think its hardware features and business model may have the potential to garner a positive market reaction, fueling robust sales growth,"
Kuo concludes.
"If this is the case, we believe the shares of top beneficiaries Sunnic and Primax will outperform accordingly."
Finally, it's also clear that not only suppliers' share will grow, if that rumored Amazon smartphone lifts off - the retailer's shares are also likely to go up. With all this said, we're curious to hear what you think about all this: how do you imagine this 6-camera Amazon smartphone would look like? Are you excited about a possible Amazon smartphone?
source:
BGR